What Do You Do When Your Best Friend Is Dying?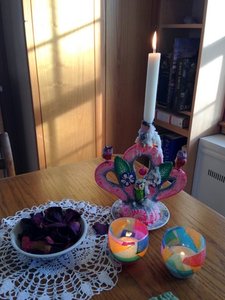 How can this be; she's 12 years younger than me.
She's been like my sister since we met forty years ago in Barcelona.
She called me that Monday morning:
"Mil, I have good news and bad news.
The good news? I'm not a hypochondriac.
The bad news — I have pancreatic cancer, stage 4, and it has spread."
Cry. Light candles. Pray. Worry: who will I talk to when I'm feeling ecstatic – or nutsy? Hope against hope. She's made it through so many other tough times. Maybe…
I try to haiku —
five — seven — five syllables
make sense of this mess
Cancel appointments. Minimize computer. Be with her when she wants. Savor the crazy times. Remember that afternoon we met and she thought I was stoned "…and then I found out you talk so slow because you're from Kentucky…" Laugh. Hang out. Remember more stories.
Finally get it that she is in her last days. Sit by her bedside in the sunlight. Gently massage her feet, her pain places. Talk with her son, my godson. Cry some more. Be thankful for so much. Ask her to send me a signal from "the other side."
On her deathbed, Jane calms me:
Take care of you. i'll help you.
you're here. shine your light.
Thanks, Jane. You're the best.
This post is part of Common Grief, a Healthy Living editorial initiative. Grief is an inevitable part of life, but that doesn't make navigating it any easier. The deep sorrow that accompanies the death of a loved one, the end of a marriage or even moving far away from home, is real. But while grief is universal, we all grieve differently. So we started Common Grief to help learn from each other. Let's talk about living with loss. If you have a story you'd like to share, email us at strongertogether@huffingtonpost.com.